AIR-DRIED or KILN-DRIED WOOD?
One consideration to make when buying clubs is the choice we give to our customers between clubs made from air-dried, solid pieces of wood or from kiln-dried timber. While there is the obvious difference in aesthetics of the wood grain, other factors are price difference and the risk of cosmetic cracks appearing in air-dried wood. Please read on…
KILN-DRIED TIMBER
Most of our smaller clubs are made in the UK from kiln-dried timbers such as ash and sapele. These are coated in Danish oil and require little or no maintenance. See oiling below. They can be kept in most places around the home or garage, though they should avoid being left in direct sunlight or near to a direct source of heat. They may require re-oiling once or twice a year, dependent on use.
Danish oil can vary from suppliers and cheaper brands can often be of poorer quality. We are now selling our preferred Danish oil & Nourishing oils in handly 250ml dispensers on our shop.
AIR-DRIED TIMBER
Our walnut clubs and red oak gadas are mainly made from air-dried hardwood. No matter how old the timber is, large whole pieces carry a small risk of cracking. This risk can be minimised if awareness is made as to the impact of careful acclimatisation especially, when moving between contrasting conditions. Temperature, humidity and air circulation can all have an impact. Our karlakattai range of clubs are the most exposed as they are traditionally finished with an ayurvedic blend of oil to both nourish the wood as well as the user. Regular oiling can help protect from this risk too.
The rest of our walnut and oak clubs and gadas are now sealed and finished with varnish and this helps minimise the risk of cracking as well as reducing the maintencance requirement.
If clubs are shipping during winter months, there is more damp in the air. It is also cooler so if delivered clubs are introduced to a warm, dry home, it is better for the change to be gradual, thereby retaining their original condition. This can be done by initially keeping them in a garage or basement. If this is not possible, then storing in the cardboard box they arrived in can help maintain relative humidity protecting from dryness and airflow. It is totally OK swinging your clubs in a warm room, but better to store afterwards as described, especially for the first couple of months.
WHY AIR-DRIED TIMBER?
Well, when it comes to the larger diameter clubs, the price of wood escalates dramatically as kiln-dried timber is not available in these sizes. The only way to make clubs of thicker diameters of 4″ is to glue layers of wood together. Totally possible but expensive and made us think again. Kiln-dried wood also has a high impact on the carbon footprint when compared to air-dired wood. See this article that compares Kiln-dried v Air-dried.  So, we chose to go back to how our predecessors produced them – from single solid pieces from air-dried logs. Ours are mainly source from Indian walnut timber. Air-dried timber has the following benefits:
• they are more affordable (some sell for less than half the price of kiln-dried clubs).
• single log where the wood is one whole piece (not laminated or glue layered).
• they come from sustainable timber supplies.
• they carry a lower carbon footprint using only sun and wind to season.
• traditionalists prefer a log-based approach that is more authentic and with a better energetic connection.
• the clubs have stunning grain aesthetics – each piece is unique.
• the products BMF purchase, create a sustainable form of income to the charities we support.
• BMF additionally supports tree planting for a sustainable cycle of production – putting back more than we take out.
There is one downside to air-dried logs – they carry a risk of small cracks appearing. The risk can increase when clubs are quickly moved from a humid to a dry atmosphere and drying is speeded up. Usually, most of this will have happened in our care during the processing, finishing and storage in our workshop. As mentioned above, this is now much less of a risk with sealed/varnished products.
If it happens, they can easily be fixed by using various methods to stabilise the wood. We feel this is acceptible at a cosmetic level and worth the small effort should it occur, which is rare. What is not acceptible is structural or excessive splitting. Please let us know if this happens and we can work out a solution. If cosmetic, then see below how easy it is to fix.
CARE & OILING
Store timber products in a cool, dry space. Avoid leaving them in direct sun, and keep away from direct heat sources or excessively dry areas.
INDIAN CLUBS – ASH, SAPELE, BEECH
Kiln-dried timbers for smaller clubs such as ash, beech, sapele require little aftercare. However, if you notice your clubs getting a little dry then it maybe be worth nourishing them with a coat of oil similar to that used originally. The same Danish oil we use can be purchased on our store here.
LARGER CLUBS & MEELS
These whole timber clubs benefit more by keeping them protected with a coat of oil when needed. You may simply apply straight to the wood. However, if they feel rough to the touch, use a fine sand paper (240+ grit) to make smooth before applying the oil.
• DANISH OIL – apply once or twice a year. Don't over apply and wipe in the direction of the grain with a dry cloth. Whipe off any excess with a dry cloth. Allow to dry overnight before using again.
Buy BMF Danish Oil.
• NEEM/CASTOR/MUSTARD OIL – require more regular attention. This can be monthly or more if you feel it needs it. Either mix castor/neem oils in a ratio of 3:1 or neem/castor/mustard oils in a ratio 1:1:1.  Apply with a cloth in the direction of the grain. All three oils are good for the skin 🙂
Buy BMF Nourishing Oil.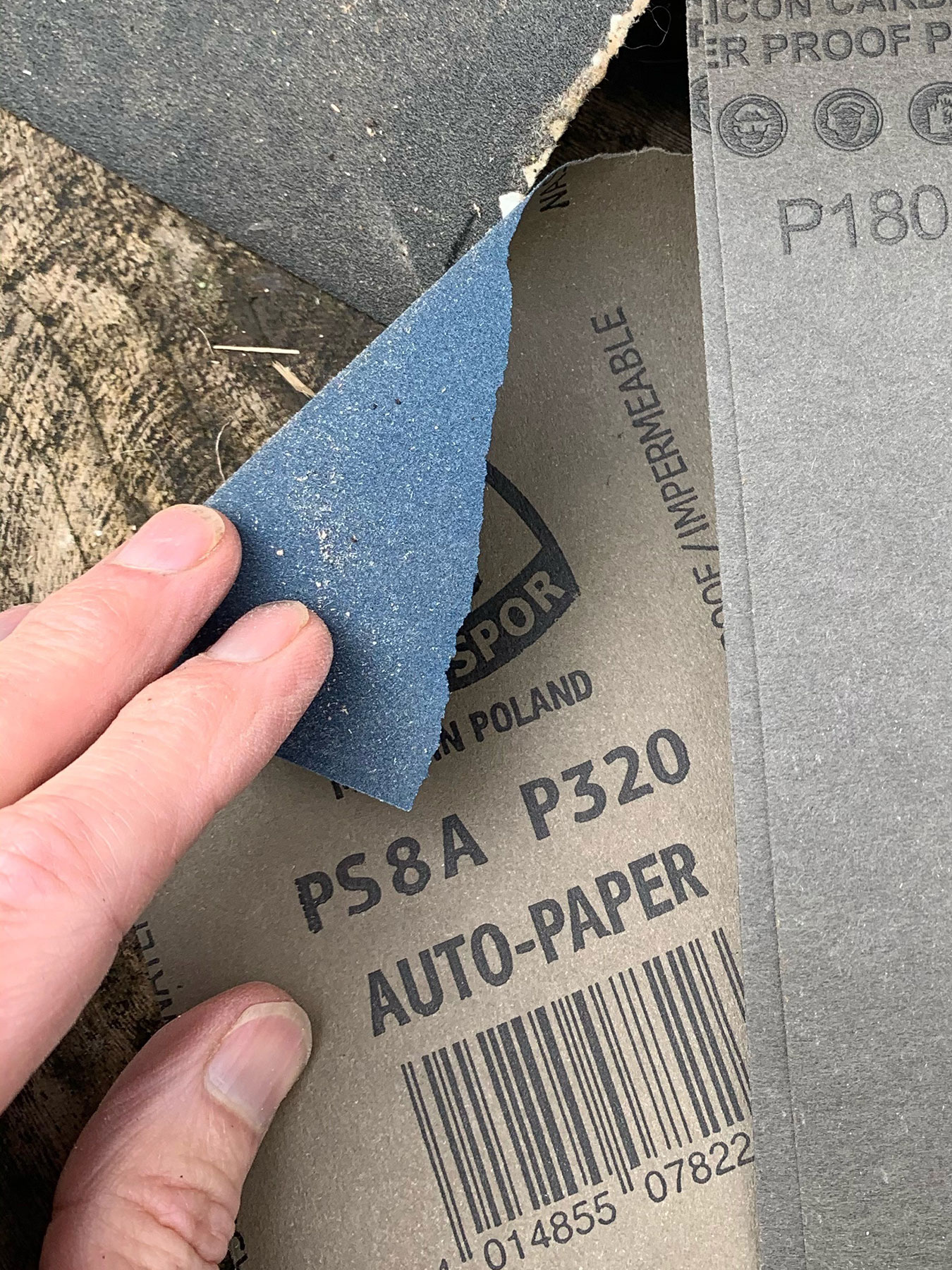 REPAIR
FINE CRACK REPAIRS
If hairline cracks  appear, they can be easily resolved. I use Gorilla Superglue Gel (can be found in many hardware stores or online). This is thick enough to stabilise as well as fill the crack. It may need one or two applications. Let it dry for 10 mins or so before either sanding or preferably skimming off any raised areas with a sharp knife. Then, refinish by applying either Danish oil or neem/castor oil (whichever was used originaly).
Hairline cracks up to 0.5mm wide.
3. Cut excess dried glue with sharp knife or sand with fine sand paper
4. Finally apply fresh coat of oil 🙂
0 to 1mm CRACKS
For slightly wider cracks, white wood glue (dries transparent) is thick enough for holes up to 1mm thick. Wipe away excess glue. Treat as for superglue gel, but allow a longer drying time of 24 hours at room temperature to harden. Wood glue can be found in most hardware stores, ebay or elsewhere online.
Apply wood glue to cracks up to 1mm wide.
3. Remove any raised areas of glue with sharp knife or sand with fine sand paper.
4. Finally apply fresh coat of oil and dry overnight
WIDER CRACKS
For cracks wider than 1mm, mix fine sawdust with wood glue and paste it into the crack. White wood glue can be purchased from most hardware stores, Amazon or elsewhere online. You can save sanding time by taping some clear acetate or thin plastic over the glued area so it dries beautifully smooth (the windows in plastic food packaging works well). Allow to dry for at least 24 hours or more, depending on how much glue was needed. Final finishing can be done by applying one or 2 thin coats of oil to the surrounding wood.
Mix wood glue and sawdust into paste.
2. Apply mix into crack. Smooth over with a knife or by taping a piece of clear plastic along the join (a plastic food packing window is ideal). This will lengthen the time required to dry to 2 days).
3. Dry overnight. Sand with medium and fine grit paper.
4. Finally apply fresh coat of oil 🙂
Drop us a line if you need to discuss an order